Blue Star is an award winning team of architecture, design and construction professionals based in Washington DC that provides lifestyle-driven design and superior construction services.
We take pride in bringing your vision to life through functional, aesthetically beautiful design and quality craftsmanship.
Your Vision — Our MISSION
What Design Build Can Mean For You
Our goal is to design and build a home that you will love. We accomplish this first by understanding your goals, lifestyle, design preferences and, of course, budget. Our team then works to create a cohesive design plan for your home and obtaining the necessary permits for building.
Once construction begins, your project management and design team will manage every detail of workflow and check-in with you regularly on progress to completion. Our step by step process ensures that you're kept informed throughout and are as involved as you want to be. You make that decision.  Our process ››
Portfolio
Living Better Starts Here
Our focus is ensuring that the aspirations you have for your home come to life. We accomplish this by working closely with you through the design process to create spaces that are unique and functional to your needs. And, by managing the entire project from beginning to end, our team completes projects efficiently and with the utmost attention to detail.

Happy Clients
Blue Star did an amazing job rebuilding every bit of our home from head to toe, starting with a new roof overhead all the way down to a new foundation beneath our basement and everything in between.
— Heather & Aaron, Capitol Hill
We are so appreciative and impressed at how well you all have managed the time on this project.  Thank you!
— Megan, H Street Corridor
Blue Star has been a true partner from day 1. When issues arise, they are the kind of team you want on your side. Their communication and responsiveness put my mind at ease during challenges on our project, and their commitment to detail and quality produced superior results.
— Michael, Providence Park
The Blue Star team made the stressful process of a home improvement project very easy, affordable and professional. The results are amazing and we are enjoying our home more than ever!
— The Wrights, Alexandria
Every time I go into the house I get so happy and excited. It's awesome.
Blue Star transformed our old Capitol Hill row house  into an amazing, modern "forever" home while keeping the historic charm.  Eric and his team were a pleasure to work with and supported us every step of the way.
We are blown away by the transformation from where we started to where we are today and still amazed that we fit it all in!
Blue Star excelled at design and layout, craftsmanship and finish, response to feedback, figuring out creative solutions to inherent space challenges.
Blue Star was a great partner during our renovation. They were focused on working with our family to ensure our home was exactly what we hoped it would be during the design phase.
This was a complete remodel of a rowhouse. And I had absolutely no experience with remodeling. The owner was responsive, thorough, and brought the project in on time — not a small feat!
I'm happy to recommend the team at Blue Star…I appreciated how they operated with honesty and fairness, along with flexibility to adapt to changing circumstances. We enjoy the outcome of their work every day.
The craftsmen used were excellent. We were impressed with their work and attitude and ability to creatively work around issues. The addition seamlessly integrates into the rest of the house and it's hard to believe that the new spaces haven't always existed as part of the original home.
— Capitol Hill Homeowners
Blue Star loved the architectural and design challenges I handed them, and each time I came up with a new idea, they were driven to figure out the best way to deliver.
Overall, we can't say enough good things about the quality of our home and Blue Star's customer service and attention to detail! The house was well laid-out, design choices were clearly thought out, and no detail was left undone.
— Chris & Haley, Petworth
Blue Star excelled at building a beautiful home. Blue Star employs a great team and makes beautiful designs. They will come through for you in the end and you will be happy with your wonderful home!
— Katie & Henry, Brookland
Blue Star came in on budget and ahead of a very, very tight and critical schedule. We highly recommend them to anyone considering a renovation.
I couldn't be more pleased with the finished product and the service we received along the way.
Blue Star was incredibly responsive and great about working around our schedule. The entire team was great about working with us and our schedule as we had a new baby during the middle of the process. They adhered to timelines and had great communication. So happy with our end result.
— Matthew & Karla, Southwest
Everything is looking really great! We are loving the place and adjusting to having all of this extra space. It's awesome!!
They have a lot of knowledge about what adds to your property value, and what doesn't. This was extra knowledge that you don't normally get with a GC. Blue Star went the extra mile and put it all together!
They had some very good design ideas at the start, but were also receptive to requests and very accommodating. The execution was professional and timely. We were very pleased with the work product and highly recommend the team.
Quality and the majority of the project was managed very efficiently until the end. The team worked to make sure we were satisfied with the final finishes and made adjustments as needed.
Eric and Christal have a good sense of what makes a comfortable home. They were able to merge tasteful design aesthetics with functional spaces in order to modernize a 1950's tract house into a custom residence.
Our project manager has been great in moving the project along and keeping things going. It is always easy to get a hold of him, which I really appreciate.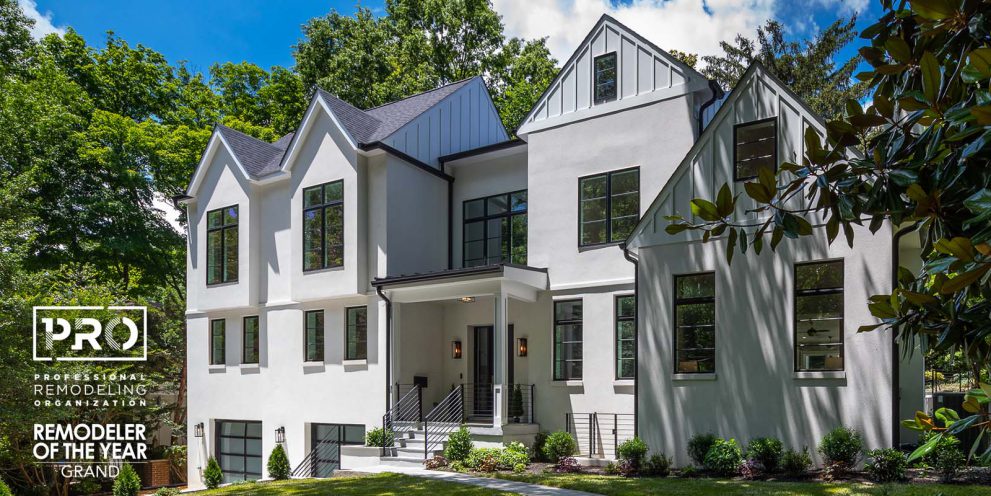 Thank you to our wonderful clients, exceptional employees, trusted partners and all those who help us produce wonderful work! We're proud to be a multiple PRO MidAtlantic awards winner again in 2023.
368,264
Amount of
2×4's used
790,451
Hours spent
at DCRA