Two luxurious, modern units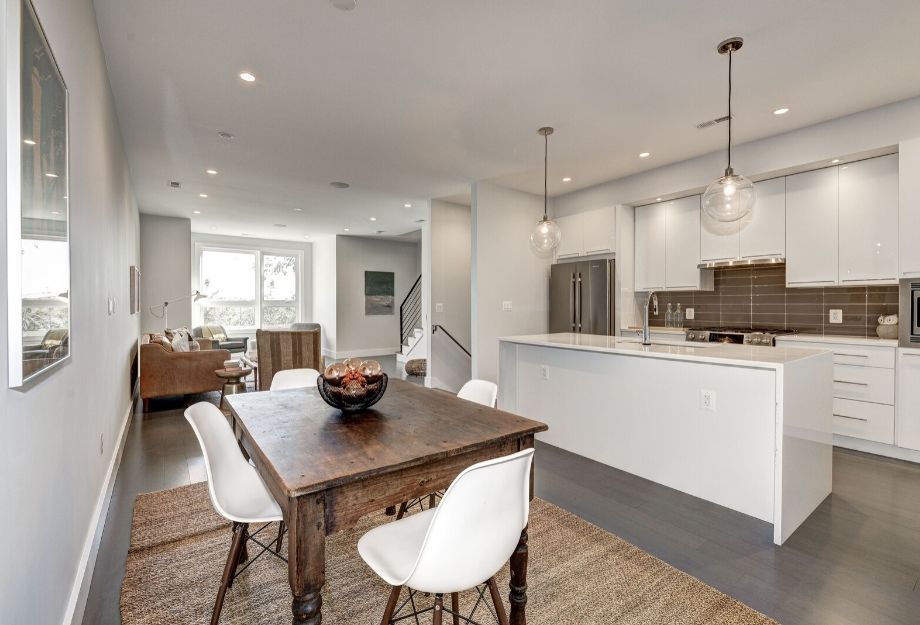 PROJECT OVERVIEW:
One becomes two with the complete remodeled of a large row house into two stylish condominiums. Each unit is generously sized at 2,000 square feet and features functional floors plans, contemporary finishes that stand time and river views from the roof terrace. Kitchens are central to almost any home. For these units, our designers created spaces that provide each homeowner the ability to showcase their cooking skills while also maximize storage space. And, with oversized windows, finish materials and fixtures focused on a clean, crisp look and sustainable bamboo floors, these units are not the average condominium conversion.

NEIGHBORHOOD: Kingman Park
---
Do you like what you see? Take a look at other Blue Star homes and drop us a line.

Happy People
Blue Star excelled at design and layout, craftsmanship and finish, response to feedback, figuring out creative solutions to inherent space challenges.
Blue Star was a great partner during our renovation. They were focused on working with our family to ensure our home was exactly what we hoped it would be during the design phase.
When you buy from Eric and his team, you can rest assured that they will address problems your inspectors couldn't see.
Overall, we can't say enough good things about the quality of our home and Blue Star's customer service and attention to detail! The house was well laid-out, design choices were clearly thought out, and no detail was left undone.
— Chris & Haley, Petworth
Eric and his team turned the house next door to mine on Capitol Hill into a jewel box. I was impressed with his outreach to neighbors and his attention to detail. He cares about his work and it shows.
— Ed, Capitol Hill Neighbor
Blue Star came in on budget and ahead of a very, very tight and critical schedule. We highly recommend them to anyone considering a renovation.