Re-imagined and revived in Historic neighborhood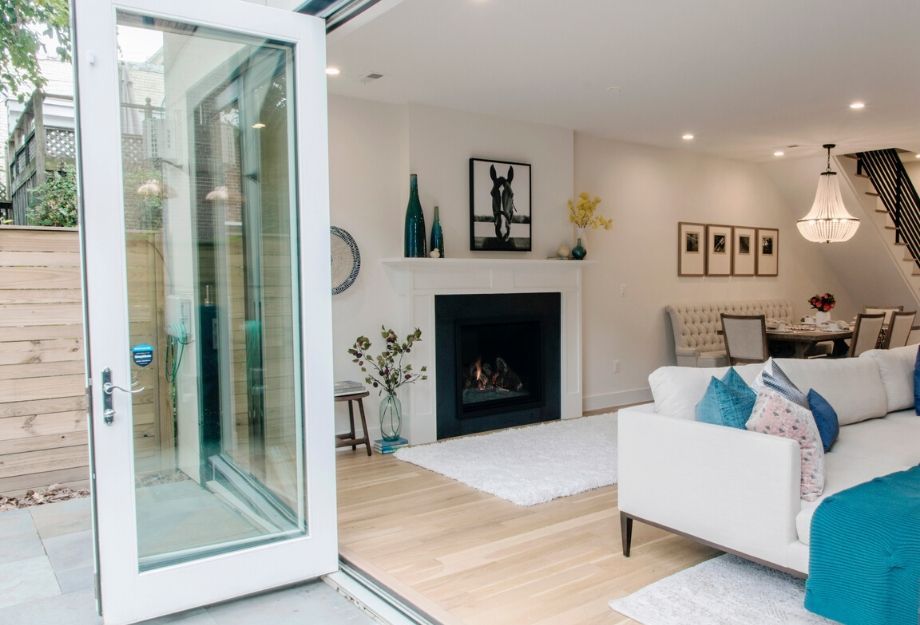 PROJECT OVERVIEW:
Built in the 1960s by DC developer Barrett Linde, this home never quite fit on a street lined with much older Federal and Victorian style homes. Literally a brick box, this former two level three bedroom house has been re-imagined, top to bottom. With a focus on increasing the livability and function of the house as well as integrate the exterior into the surrounding neighborhood, our team designed and rebuilt the house into a three level home that provides 3,400 square feet of living space. The main floor features a oversized chef's kitchen that looks out to the garden via a folding door that spans the rear of the house. 5 bedrooms and four baths as well as a separate family space and rear balcony are spread across the two upper floors. The  cupola over the stairs bathes the home in light and is a nod to those seen through out the neighborhood. 

NEIGHBORHOOD: Eastern Market
---
Do you like what you see? Take a look at other Blue Star homes and drop us a line.

Happy People
They had some very good design ideas at the start, but were also receptive to requests and very accommodating. The execution was professional and timely. We were very pleased with the work product and highly recommend the team.
Eric and Christal have a good sense of what makes a comfortable home. They were able to merge tasteful design aesthetics with functional spaces in order to modernize a 1950's tract house into a custom residence.
I was very pleased with my experience with Blue Star. The reason for the top 5-star rating is three fold- the quality of the work, the prices they obtained for materials and the design elements. I did a large renovation (kitchen, 3 bathrooms, HVAC, plus knocked down some walls) which took about 4 months.
Really impeccable work! My style is hands-off so I wanted Blue Star to make suggestions and most of the choices for me on design, kitchen appliances, features, lighting, etc…I would highly recommend them!
Blue Star was a great partner during our renovation. They were focused on working with our family to ensure our home was exactly what we hoped it would be during the design phase.
Blue Star's best trait is their attitude. Everyone is unfailing polite, even when things got hard. And when things went wrong, which I fully anticipated would happen, you guys did the right thing every single time.
— Alyson & Dave, Capitol Hill