Retaining original charm while modernizing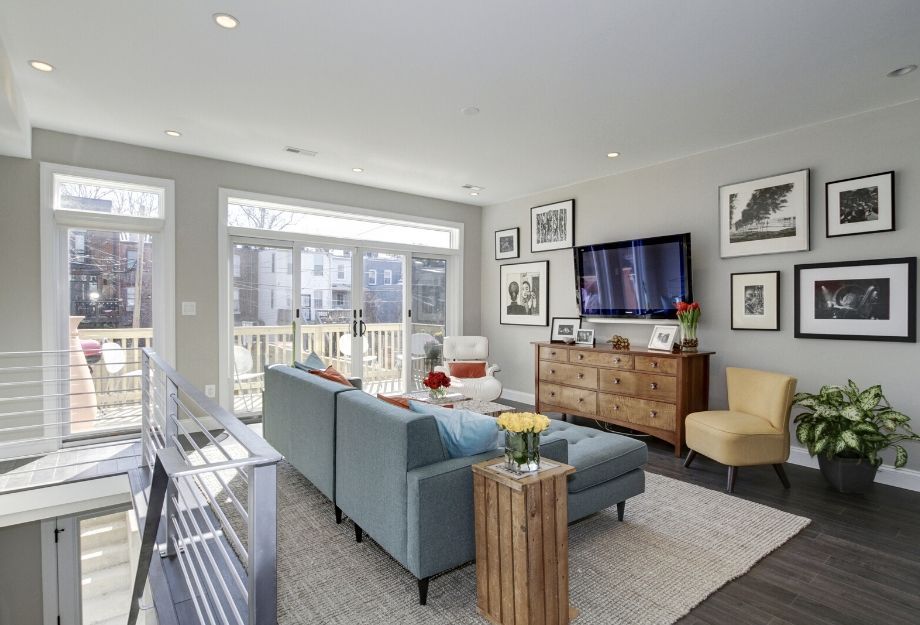 PROJECT OVERVIEW:
A complete remodel to modernize this home infused unique features and retained historic elements in the main and upper floors. Repurposed turn-of-the-century doors frame the living room and the foyer entrance speaks to its past with a custom wood inlay created from reclaimed original flooring. We collaborated with the owner to integrate an old roaster turned powder room sink and our craftsmen turned a wooden table previously used for family dinners into a striking countertop. With its high ceilings and natural light, exposed brick enhances the master bedroom. Extra storage was carved out wherever possible, including cabinetry tucked in beneath the stairs. Transom windows in the new rear addition give another nod to the past. The basement features sliding walls that allow for maximize flexibility and convert the space from a fully equipped two bedroom apartment to a one bedroom flat that allows additional space for the homeowner.
NEIGHBORHOOD: NOMA
---
Do you like what you see? Take a look at other Blue Star homes and drop us a line.

Happy People
They have a lot of knowledge about what adds to your property value, and what doesn't. This was extra knowledge that you don't normally get with a GC. Blue Star went the extra mile and put it all together!
They had some very good design ideas at the start, but were also receptive to requests and very accommodating. The execution was professional and timely. We were very pleased with the work product and highly recommend the team.
The Blue Star team made the stressful process of a home improvement project very easy, affordable and professional. The results are amazing and we are enjoying our home more than ever!
— The Wrights, Alexandria
We are blown away by the transformation from where we started to where we are today and still amazed that we fit it all in!
I was very pleased with my experience with Blue Star. The reason for the top 5-star rating is three fold- the quality of the work, the prices they obtained for materials and the design elements. I did a large renovation (kitchen, 3 bathrooms, HVAC, plus knocked down some walls) which took about 4 months.
Really impeccable work! My style is hands-off so I wanted Blue Star to make suggestions and most of the choices for me on design, kitchen appliances, features, lighting, etc…I would highly recommend them!